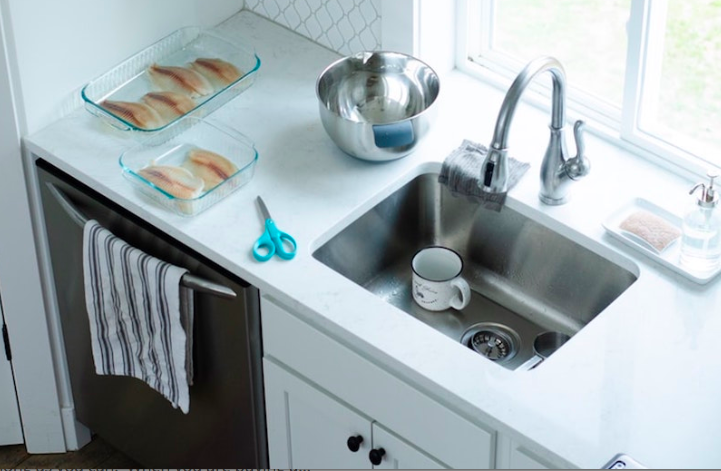 Whether you've got a new kitchen or refurbished your old one, you will want to keep it looking good for as long as you can.  When you are buying a kitchen you should choose one from the highest quality manufacturer you can afford.  This will ensure your kitchen is durable and stands up to everyday life for many years to come.
If your budget doesn't buy you much kitchen then why not consider buying an ex-display or quality used kitchen?  You can then get a better quality kitchen at a lower price.  Have a look at the kitchens we have to offer right now https://usedkitchenhub.com/product-category/kitchen-categories/all-kitchens
Looking After Your Cabinets
For both matt and gloss cabinets it is best to regularly clean them, inside and out, with a mild solution of kitchen detergent.  Dry immediately to prevent water damage and warping.  If you have some scratches to cover up you can buy a wax filler kit which will help restore the cabinet.
Kitchen worktops are designed to resist spills but you should always wipe them up as soon as you can to prevent staining.  Wooden worktops will need regular oiling – probably at least three times a year.  Granite worktops will also need resealing every 5 years or so.  It is worth bearing this in mind when you are choosing your worktops.
Open your drawers and cupboard doors carefully each time you use them, and don't slam them shut.  It is a good idea to clean the drawer runners from time to time to keep them running smoothly.   
A kitchen sink can often look grimy with a build-up of limescale and dirt around the kitchen tap.  Some foods can leave nasty stains which should be removed as soon as possible.  Applying lemon juice with a rough sponge is a really good way of cleaning your sink and leaving it sparkling like new.
Keep Your Appliances As Good As New
When you get a new kitchen appliance you should be sure to read the instruction leaflet to ensure you are using it properly.  Cleaning the appliance regularly can extend it's life and keep it running efficiently for as long as possible.  Don't overload appliances such as washing machines and tumble dryers as this could be dangerous and present a fire risk.
Looking after your kitchen will extend it's life and keep it looking stunning for much longer.