This is an amazing opportunity to buy a brand new & still boxed beautiful modern kitchen which comes with lots of Siemens appliances all at a superb discounted price. This was going to be used by a developer and the order was then cancelled leaving you with the chance to get it instead.
Available to view in Essex, this ex display kitchen is ready for collection or delivery
Please speak to us about our dismantle and delivery service!n
All measurements are from Left to Right
Side 1 inc Hob – Total Run 4040mm
Tall Units 1965 High
1 x 600 Fridge Freezer Housing
1 x 600 Oven Housing inc Combi Oven & 2 Cupboards
Base Units
1 x 600 Cupboard
1 x 1000 Triple Drawer Unit
1 x 600 Deep Corner Cupboard
Wall Units 575 High
1 x 600 Cupboard
1 x 1000 Double Cupboard
1 x 600 Cupboard
1 x 300 L Shape Corner Cupboard
Side 2 inc Sink – Total Run 3040mm
Base Units
1 x 600 Cupboard
1 x 1200 Double Cupboard (under sink)
1 x 600 Dishwasher Housing
Wall Units 575 High
1 x 300 L Shape Corner Cupboard
1 x 500 Cupboard
1 x 500 Cupboard
Appliances
1 x Siemens iQ300 Fridge Freezer KI86VVF30G
1 x Siemens iQ700 Oven HB632GBS1B
1 x Siemens iQ700 Combi Microwave Oven CM633GBS1B
1 x Siemens iQ300 Dishwasher SN636X00KG
1 x Siemens iQ100 Induction Hob EU631FEB1E
1 x Siemens iQ500 Canopy Extractor Hood LB57574GB
1 x Stainless Steel Sink & Brushed Steel Tap
Worktop
Quartz 20mm Worktops Artscut Grey Serena colour shown, but buyer can choose from 12 colours.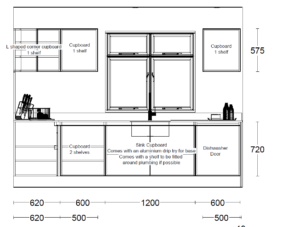 Contact us for more details about this Kitchen. *Guarantees cannot be made regarding the condition of worktops after being dismantled, therefore they are not sold as part of the kitchen but are included free of charge. Please note that Used Kitchen Hub are not responsible for the accuracy of the information contained within this advert.